I am so excited! I finally finished my Fish Net scarf! I had some friends over last night for a craft night and pushed through the pain and bound off last night. I really love the finished product. It is going to look fabulous with a black dress or another dark, plain color. My one concern is that I think if it not being held taut, the scarf twists on itself. If you ignored all the YOs and decreases, it is a stockinette scarf and therefore subject to twisting and curling. If only I could find a nice opera to which I could bring my scarf...
I have also started working on an old WIP th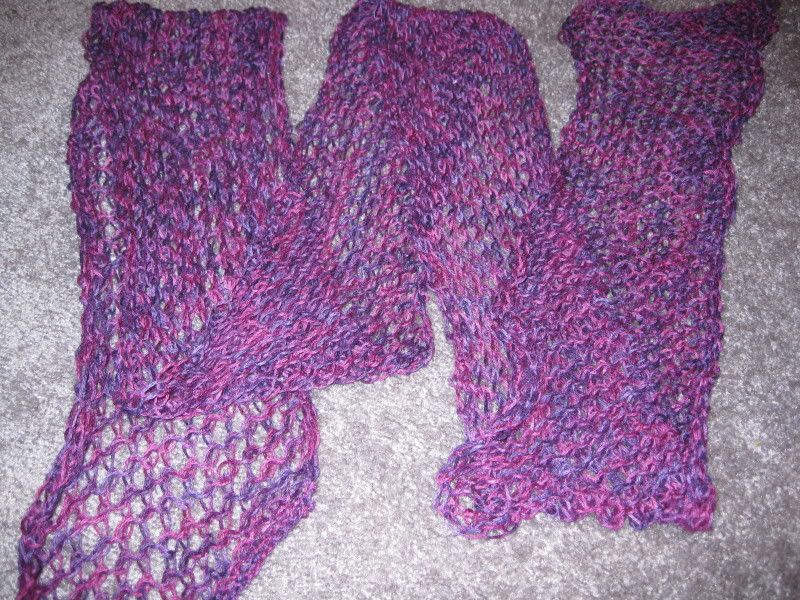 at it needs to see the light of day. I frogged Branching Out and restarted the pattern. When I started this project years ago, I didn't read the instructions before I started and my interpretation of the pattern is a bit different. The scarf looked okay, but this time around it looks better. I am really enjoying knitting this scarf, because the pattern repeat is pretty quick (only 10 rows and 30ish live stitches), so I feel like I am accomplishing something. Of course this sense of accomplishment only comes when I pay attention to the pattern and remember which row I am on. I have a hard time reading my stitches, so many times I rip back to a row that I can recognize if I get mixed up with the pattern.