Frustrated is too kind of a word I have for Odessa right now. We are not talking right now. Remember how I got that huge knot in my yarn in preparation for knitting Odessa? Well, I had the bright idea of learning how to do a spit split join (I know that isn't the right name, but it sounds so much prettier than the actual act) and cut out the knot. I tried it out on Thursday. It isn't the prettiest join in the world, but it is strong, it works, and most importantly, you can't tell from afar or if you are a non-knitter. So what is the problem?
1. I have done a ton of tinking of this project, which hasn't endeared this project to my heart, but I accept tinking when I decide to use all my concentration on my BBC miniseries (
Cranford
is very good, btw).
2. I am running out of yarn on this ball (I found a second ball in my stash, thank goodness), but I want to try to undo the knot before going to the second ball. Watching my little ball of yarn get smaller and smaller is not only making me feel anxious but also extremely annoyed with this hat. I knew from the get go that this would be a tight project (that is why I bought a second ball in the first place), but this just hits home that I will need to untangle that yarn I made a mess of last week.
3. This is the worst. This was the cherry on the top. This is why I threw Odessa back in her bag and am considering a novelty garter stitch scarf. I didn't print out the directions for this hat. I decided I would just take some short notes. Well, I misread the pattern or my notes. I did 2 normal rounds and 1 bead round. I was supposed to do 3 normal rounds and then 1 bead round. It's not that big of a deal and I know I could change the decreasing rounds to match what I have been doing, but...it just broke me.
This is just a simple hat! I shouldn't be having this many issues! I think it is time to return to the world of garter and stockinette for the time being.
In the world of simple knits, I finished my ribbed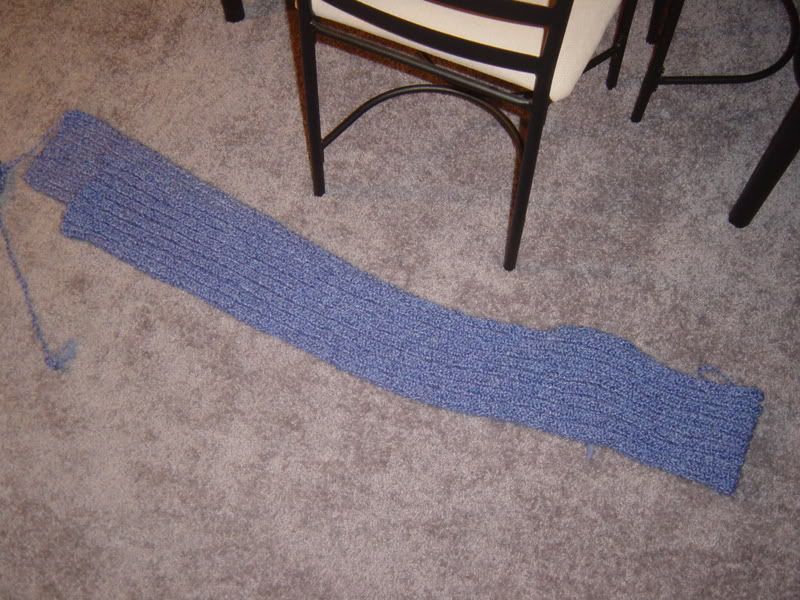 scarf. It is just short of being twice my height. It was very entertaining binding off for this project. For the life of me, I couldn't remember how to do it, so I decided to let my fingers do the work for me. My brain couldn't remember the technique but my fingers did. I am quite happy with this scarf. The color and length suit me to a t. Now if only the temperature would drop to about 50F.