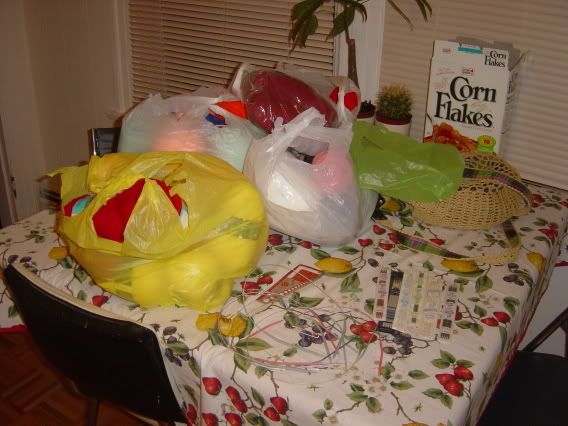 This is going to be a quickie, because I stayed out late with a friend and am quiet sleepy. I could have waited until tomorrow, but I needed to show you the yarn and needles I have acquired. I had dinner with my friend MB tonight. We laughed and talked about old times. It was fabulous. In addition, she very kindly gave me some of the yarn from her large yarn stash her Mom had accumulated over the years. We must all give a very big shout out to Joyce! I left with four bags of yarn. Most of it is a mixture of acrylic and wool or just acrylic. I jumped at the chance for such a large amount of yarn, because I have been wanting to knit a blanket but didn't have the money to spend on the amount of yarn I would need. I am thinking about making a Mason-Dixon log cabin blanket with it or maybe even the mitered square blanket.
I also need to show you the needles I got. Here is just a quick shot of some of the dpns I got.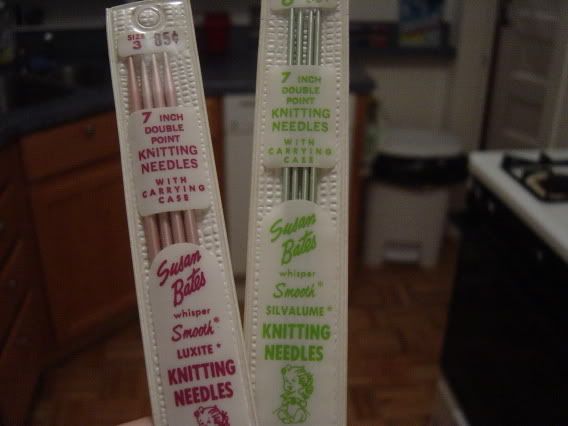 Aren't they beautiful? I also got a stack of circular needles, my new best friends. Some are plastic and some are aluminum. I am going to have to make some sort of labeling system since there is nothing marking their size, but I love them all the same.
Also, on the knitting front, I started a moss stitch hand towel from the Mason-Dixon book. Isn't it sweet? I think it would be lovely to have some handknit goods around the apartment in Florida.
To bed! To bed!
More details (and pictures) tomorrow, I promise.
-SAK