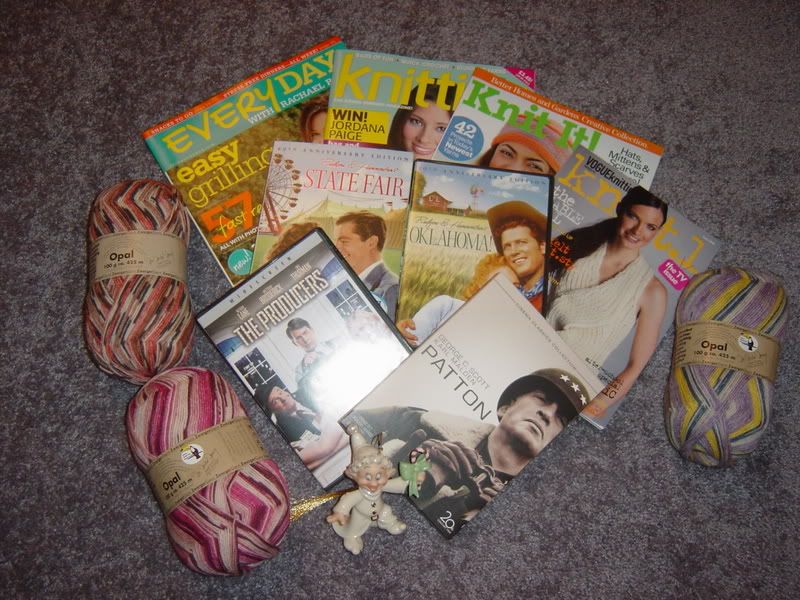 I had a wonderful birthday today! My wonderful classmates threw me a surprise birthday party. It was really sweet of them considering we all just met less than one month ago. Anyway, we had a blast talking research (yeah, we're nerds) and movies. :)
I opened up my birthday presents too. Here is a picture of the loot. My parents sent me a glass Dopey figurine (I collect them) and I bought myself a few knitting magazines (okay, I would have bought them anyhow, but at least I had an excuse with the birthday and all), a few necessary movies (musicals are a staple in my DVD collection), Opal yarn (flamingo, fish, and a petticoat colorway), Paton, and a cooking magazine (I will learn to cook if it kills me).
I promise to return to knitting content soon! I am thinking the beautiful Opal yarn will motivate me.
Alright, back to birthday fun!
-SAK
Knitted Television:
Monty Python's Flying Circus (I am not sure which episode, but there was a cartoon woman knitting who was later placed into a suitcase and taken elsewhere. This description makes sense if you have ever seen a Monty Python show).