Wow, this past week has been a whirlwind of activity. Sock and I had several very exciting adventures. The whole trip started with a completely full flight to Orlando complete with screaming children who were very anxious to see Mickey Mouse. When I got to Orlando, I met up with my parents and the next day we drove to Gainesville. After being in the city for four hours we a) ate lunch, b) signed a lease on an apartment, c) and got our car towed (while I was signing the lease). When you are checking out an apartment complex, make sure that you park in the "future resident" parking or else you won't have a car when you finish the tour. Since we got the apartment hunting done on the first day (it was the first place we saw and it just so happened to be the perfect place for me), we spent the rest of the week going to St. Augustine and Disney World.
While in Gainesville, I went to the local yarn store. I had been warned, but I was disappointed all the same. The store was small and when I tried to explain about how excited I was that there was a yarn store in Gainesville, the woman helping me gave me a look like I was crazy. Thank goodness for online yarn stores.
Sock really enjoyed St. Augustine. First, he soaked up the rays on the beach. As you can see, pets are not allowed on this beach, but socks are! Even though Sock didn't stay out too long (the sun is too harsh on his delicate wool), he really enjoyed playing in the sand and seeing the people swim in the water.
Later he got a little learning done at the very first school house in the US. Sock and I didn't go in the school house, because they were charging ridiculous sums of money to go in, but I think Sock got a good education just peeking in through the window.
After learning his ABCs and 123s, he hung out with some other socks, wind socks that is! Sock was pretty excited to meet them, but he wasn't jealous of their job at all. He is pumped about keeping my feet toasty warm and cozy. He did not seem keen at all in spending all day in the hot sun with the air blowing right through him.
On Tuesday, my parents, Sock, and I went to the Magic Kingdom. I love the Magic Kingdom. We got on all the rides, which was really exciting. When we got to the park, it was raining, so many people stayed away from the park until the afternoon when it cleared up. We perservered and went on most of the Fantasyland rides, which are covered, during the drizzling.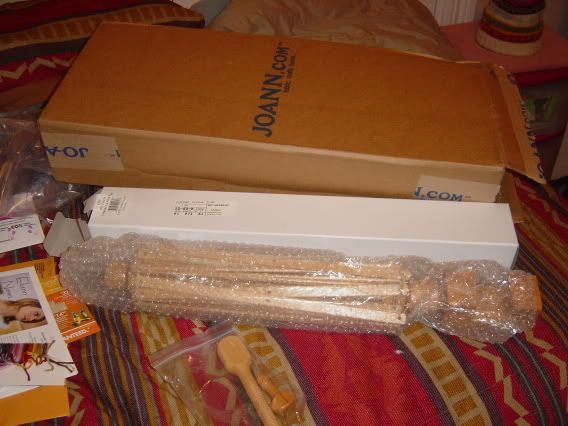 When I came home, a very exciting package was awaiting me: my swift! I thought my yarn would have arrived by Saturday, but I guess it needed a few more days. I can't wait to check my mail tomorrow and start cranking out balls of yarn!
I got a good amount of work done on Sock during the trip. By the time I got to Disney World though, I was thoroughly exhausted. My entire body hurt (especially after spending 12 hours at the park). The idea of doing anything, even knitting just seemed painful. Once I get my yarn from KnitPicks though, I feel my exhaustion will disappear.
I have more stories and pictures, but I am too tired to write. Just know, that my first pair of socks is coming along nicely and I now have an apartment in Florida! Yea! If you have emailed me in the past week, I promise to get back to you tomorrow.
-SAK