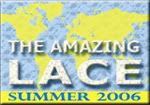 I am so excited! I have just joined my very first knit-along. Okay, I did join the Knitting Olympics, but we all remember how that
panned out
, so we are just going to forget that it ever happened. You should all the join
The Amazing Lace
, because
1) my friend
Theresa
is co-sponsoring it,
2) I am participating in it, and
3) it is knitting as a sport!
I am trying to figure out what lace item I am going to knit. I am thinking about Knitty's Branching Out, Rowan's Birch, and EZ's Pi Shawl. I want to make a shawl, but I am not sure if I am willing to commit to a knitted good that requires 300+ live stitches. I am going to do some investigative work tonight. So many possibilities, so much yarn. :)
Oh! Good news! I have convinced my friend E to start a blog (so she can join The Amazing Lace! hint hint wink wink). You should all check out her
new blog
, because she is faboo and she is knitting a Fiddlesticks Shawl. This is her second, I believe. Impressive I know!
-SAK