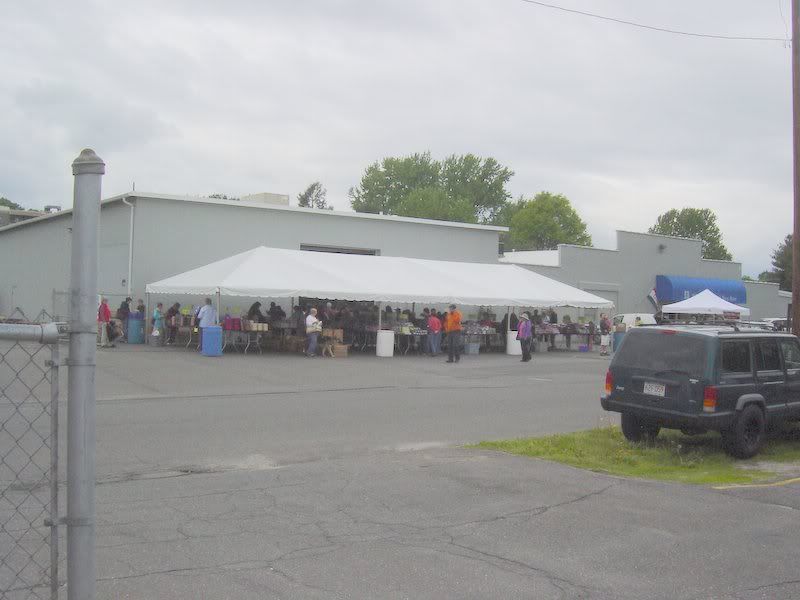 Yesterday was a fabulous and amazing day! E and I went to WEBS' tent sale. Our day got off to a minor rough start when we got on 5 North a bit early. We were supposed to take 91 N for 12 miles before getting on 5 North, but we sort of skipped that step. Everything worked out fine and we even got a scenic ride through Holyoke and Northampton. Everything ended well and we found our way to WEBS.
E and I spent a chunk of time looking at the bags of yarn at the tent sale. I found a couple of great deals including Rowan Kid Classic for 1/2 price and Rowan rowanspun 4 ply for an amazing price. After looking around the tents, I went inside the store. If you have not gone to WEBS a
nd live nearby, you need to go. It is really big. They have a huge selection of knitting books and patterns, knitting needles, and yarn. Of course there are may be places better than WEBS, but of all the yarn stores I have been to, this one has been the best by far.
The store doesn't have a large selection of lace weight yarn, but you can buy comparable weaving yarn by the cone. I ended up getting a cone of Alpaca/Silk yarn (80%/20%). I got 1800 yards for $18. I am so pumped. I am planning on making Icarus with this and at least one other thing.
The sock selection was decent (no Opal Tiger yarn, therefore not amazing) and I picked up some
Regia, Trekking XXL, and Jawoll cotton. Even though I haven't finished my first pair of socks, I feel I need a decent sock yarn stash. Socks are great, because they are such tiny projects. I forsee making many pairs of socks while waiting to classes to start and killing time in the lab at grad school. I also picked up some Cascade 220 and Silky Wool. These were necessary purchases I assure you.
I am very happy with my yarn purchases because I have somewhat definite plans for all the yarn. There were some pretty novelty yarns on sale, but I really don't need ten balls of fuzzy yarn or thick to thin yarn. There were also bags of sock yarn for sale, but I didn't really want ten balls of the same color. All in all, it was a great experience. No one was pushy and everyone seemed to be in good spirits. I didn't see anyone get into a fight over a bag of yarn.
Now I have some big decisions to make. What project should I start? I could do the Sampler Shawl as planned, Icarus, Clapotis, a lacey scarf, or a completely different shawl that I haven't found yet.
-SAK
PS Oh, btw, I finally conquered my swift and winder. Having the yarn guide in the "on" position
really helps.