Now that I have caught up on sleep and am ready for sleep depriving myself for yet another week (hey, I need my Conan monologue...maybe I should invest in TiVo), I am a bit more prepared to post.
Before I let go of the amazing Yarn Harlot book signing experience, I have to share one last special moment. When Stephanie was signing my book, I told her I was making a Christmas Stocking as my first attempt at socks, so I wouldn't have to worry about gauge or fit. I could just worry about learning sock knitting techniques. After I said this, Stephanie looked at me with a flair of conspiracy twinkling in her eyes and said: "Plus you don't have to worry about Second Sock Syndrome!" I smiled and nodding my head vigorously. ::sigh:: We shared a moment!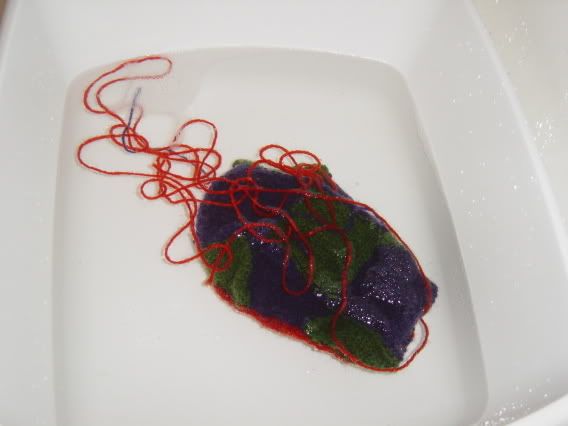 I worked like a mad woman on my housemate's gift (the mysterious present) today, but after careful thought and discussion with
Theresa
, I decided to block it before finishing it. It looks a bit lumpy right now. S and I are going to dinner on Tuesday or Wednesday night, so I can give her present to her then instead of on her actual day of birth, tomorrow. Hopefully by then I will figure out how to sew the entire thing together. I know it looks like a dead creature (your pick), but I promise, it will look nice when it is finished. And if it isn't, well, S will always enjoy a nice cable and rib cap. :)
After making the decision to block, I put away the present and started working on my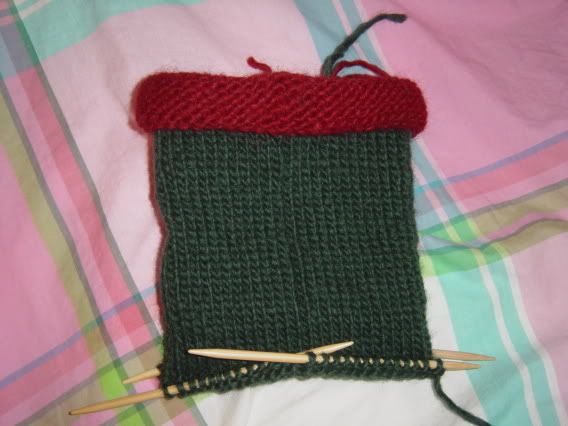 Christmas Stocking. Theresa and I got together to knit and watch Grey's Anatomy. We had fun catching up, knitting, and drinking tea. I finished the leg just as a "new episode" of Grey's Anatomy ended. ***Rant***Why are you having a montage episode??? If I wanted to know what was happening I would read recaps online or try to figure it out on my own.***Rant*** Oh well, I guess you are not allowed to have good company, knitting, and a new episode of Grey's Anatomy.
-SAK
Knitting Television:
The Sopranos (Season Two, on old school VHS!)
Grey's Anatomy
Hercule Poirot Mystery