This time tomorrow, I will have met the YARN HARLOT! I am getting all prepped, before I go to bed, I am going to charge my phone and pack my stuff. I already pulled out what I need for the trip. Yes, I do need two knitting projects and four of the Yarn Harlot's books. She will just sign the Knitting Rules! book, but I am bringing the others just in case. I might have dropped out of three Girl Scout troops (including my mom's), but I remember the motto: Be Prepared! I cannot even tell you how pumped I am about this trip. I am a little scared about the driving, but I will get a faboo reward: the YARN HARLOT!!!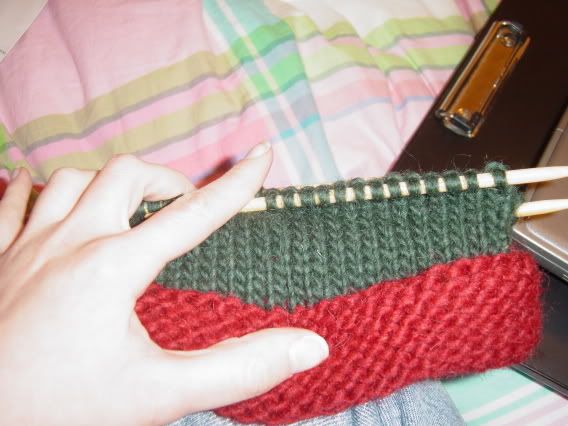 The Christmas Stocking is coming along well. It is slow in coming, but that isn't too surprising since I am a slow knitter, relatively speaking. The ladders at the corners of the stocking look a lot better. You won't be able to tell in the green part of the stocking that it was knit on dpns. The red is a bit more obvious like I said before, but it will get bent out of shape anyhow, since the hanging loop will be on that part. I am really glad that I made the decision to make a Christmas Stocking before my first pair of socks. I am learning all the needed techniques for socks, without having to worry about gauge and size. I am not a big gauge person. I know it is important if I want to make something that requires proper fit, but I am too impatient for that! I want to knit my project now! I am sure I won't be singing that tune when my first pair of socks are three sizes too big. :)
More news post-Yarn Harlot sighting!
-SAK
Knitting Television:
CSI: New York
Criminal Minds
The Sopranos
Sex & the City