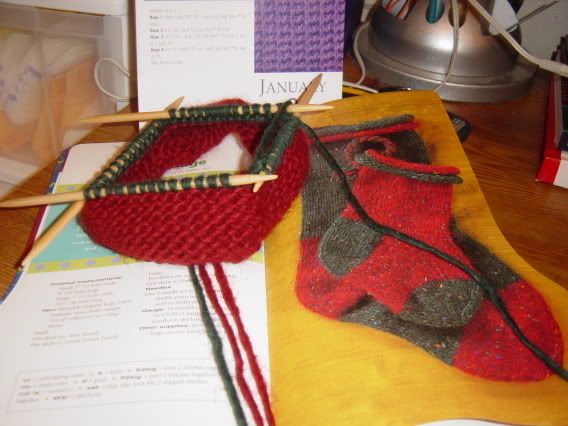 Do you see that?! That my friend, that is a Christmas stocking. Yes, it isn't a sock, but I don't want to worry about Second Sock Syndrome just yet. Ever since I broke my wrist, I have been scared to try knitting socks. I had lost all my confidence in my knitting ability. I started thinking that maybe I was only meant to make hats and scarves. Maybe breaking my wrist was a sign that I was never to knit a pair of socks. Tonight, however, I regained my confidence. It might have been due to the fact that I didn't want to work on my Whelk Pattern Dish Cloth, but no matter! I regained my confidence! I am having a minor ladder problem on two of the corners, but it isn't that noticeable, so I am just going to keep going. To be honest, I am partly afraid that if I frog it, I am going to go back to dish cloths or, heaven forbid, the mysterious present that needs to be done in the relatively near future. I am tired of it hanging over my head like a vulture waiting for me to give up. Don't I think of lovely metaphors late at night?
In happier news, I am going to see the Yarn Harlot THIS FRIDAY!!! I am so excited. Maybe I will be on her blog! I could die a happy knitter if that were so. ::sigh:: I totally need to get over this knitter crush. I can't honestly say I am a monogamous knitter crusher. If Wendy (of Wendy Knits) or Ann and Kay (of Mason-Dixon Knitting) came to the nearby area I would be freaking out just as much. This is healthy, right? It has got to be better than doing drugs.
-SAK
PS I am now part of the Knitting Bloggers webring! For all of you surfing the webring and came here, welcome!
Knitting Television:The Forbidden Planet (good, but not as good at The Black Hole)